Primary Immunodeficiencies
Evaluation of the disease
Last update: October 1st, 2019
Clinical laboratory screening in patients with suspected immunodeficiencies usually includes initial evaluations, mainly immunoglobulin levels measurement in serum, absolute circulating lymphocyte counts (compared with age-matched control ranges) and complement component proteins quantification. The most common techniques for these initial studies are ELISA and peripheral blood cytology. Once alteration in the distribution of these parameters are found, more evaluations and advanced testing are needed to reach the final diagnosis of the disease which include for example genetic approaches (to find specific mutations that produce the alterations of the immune system) and flow cytometry (immunophenotyping and phagocytic, signaling and maturation assays).
Strategy for flowcytometric immunophenotyping for screening and classification of lymphoid PID.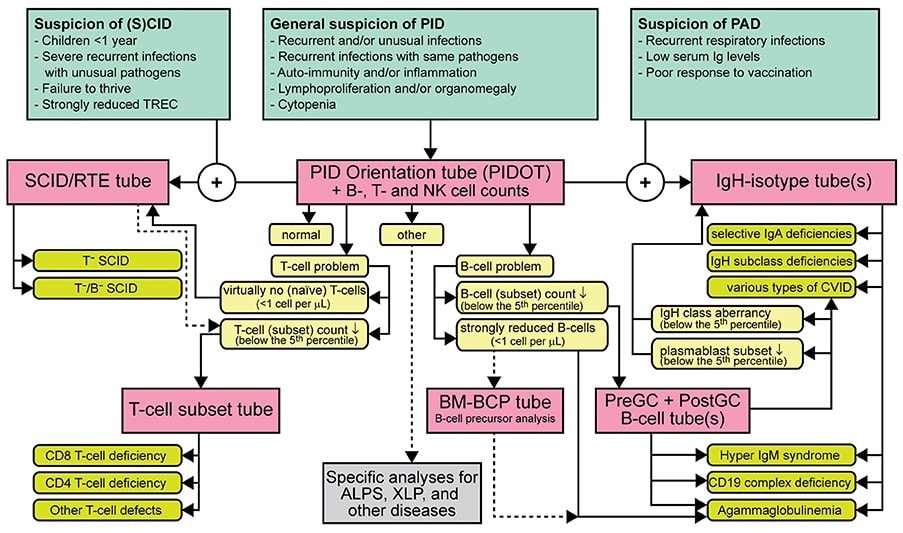 Evaluation of the disease
PID diagnosis orientation: EuroFlow™ consortium has designed an 8-color antibody panel to orientate in the diagnosis and classification of PID, namely PIDOT (Primary Immunodeficiencies Orientation Tube). This antibody panel includes antigens for the identification of the different lymphocyte populations (CD45, CD19, CD3, CD16 and CD56), and also markers to further study B – (CD27, IgM and IgD) and T – (CD4, CD8, TCRγδ, CD27 and CD45RA) cell subpopulations. With this combination we can also identify and study different populations of the myeloid lineage, such as granulocytes, monocytes and specific populations of dendritic cells.

Next Generation Flow
EuroFlow™ scientific consortium has developed a solution called Next Generation Flow (NGF) in order to create and standardize fast, accurate and sensitive flow cytometry tests. Cytognos offers a complete and scientific-based solution to help in the evaluation and diagnosis of primary immunodeficiencies.
Following the NGF methodology, the PIDOT antibody combination should be used in the initial screening of peripheral blood samples with suspicion of immunodeficiencies. The aim is to evaluate the cellular distribution of the different immune system populations even in those populations with a very low frequency (i.e. increased sensitivity). Evaluating immunodeficiencies at cellular level has better precision than humoral assessments since it unmasks alterations in the results due to treatment (e.g. immunoglobulin replacement therapies).
Infinicyt™ 2.0 includes a reference databases developed by EuroFlow™ to standardize the analysis of this antibody combination. The PIDOT database includes age-reference ranges generated using normal samples of different age groups. This is paramount for immunodeficiencies evaluation as the immune system population distribution changes throughout life.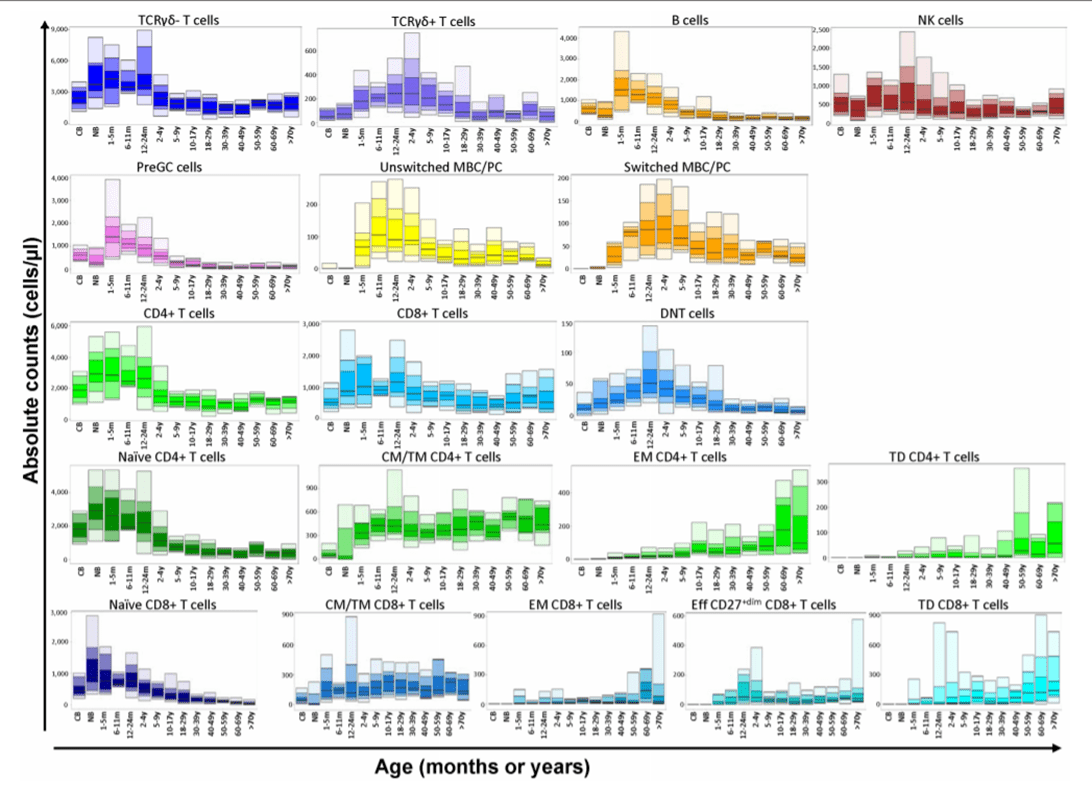 Modified from Van der Burg, M. et al; The EuroFlow PID Orientation Tube for Flow Cytometric Diagnostic Screening of Primary Immunodeficiencies of the Lymphoid System Frontiers in Immunology (2019) 10:246
Infinicyt™ 2.0 also includes the PIDOT analysis profile that allows having information about the entire immune system at a glance to make interpretation easier.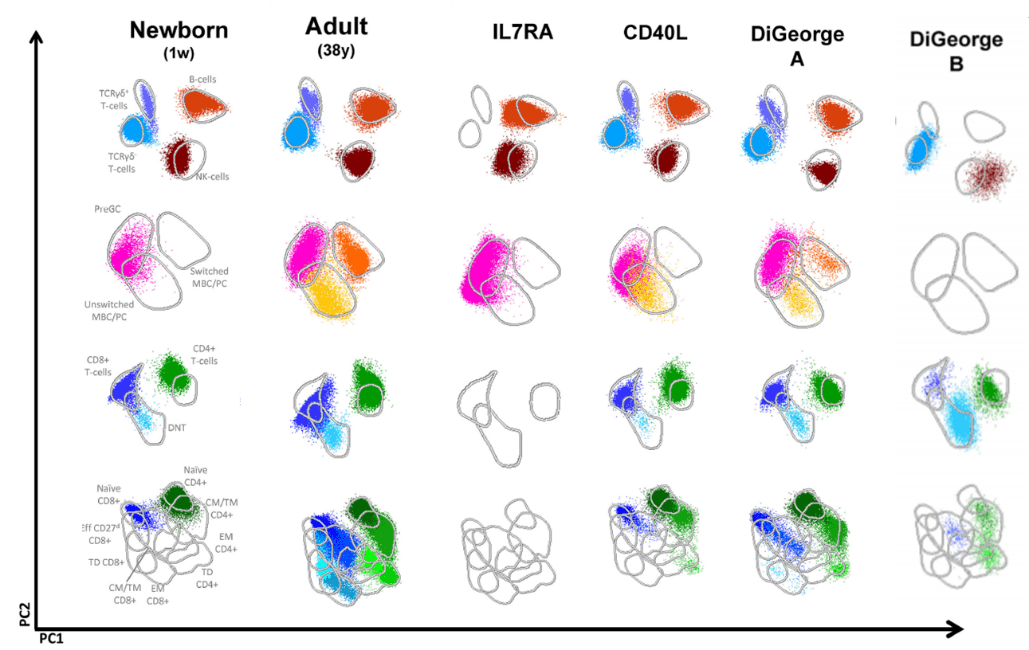 Modified from Van der Burg, M. et al; The EuroFlow PID Orientation Tube for Flow Cytometric Diagnostic Screening of Primary Immunodeficiencies of the Lymphoid System Frontiers in Immunology (2019) 10:246
Ig subclasses
Guidelines recommend further studies on affected B-cell compartment such as measurement of the major immunoglobulin classes (IgM, IgA, IgG and IgE) in the serum. This screening of serum antibodies might not always reveal the defect as specific isotype deficiencies can be hidden by treatment. The Ig subclasses tubes include antibodies for the evaluation of the different IgG and IgA isotypes in B cells and plasma cells.

Results can be compared to age-reference ranges published by the EuroFlow™ consortium. This antibody combination allows to evaluate the actual status of the B-cell compartment better than measuring circulating Ig levels. The Ig distribution of a patient is compared to age-related normal controls and with different pathologies.
Modified from Blanco E. et al; Age-associated distribution of normal B-cell and plasma cell subsets in peripheral blood. Translational and clinical immunology (2018) 141(6):2208-2219