EuroFlow™
The EuroFlow™ workflow: Immunology panels
Last update: October 1st, 2019
Since the successful innovation, standardization and publication of the Oncohematology Panels in 2012 by the EuroFlow™ Consortium, its members decided to extend their activities to the flow cytometry-based study of other diseases. On this line, Primary Immunodeficiencies (PIDs) became one of the next targets of the group, which finally led to the publication of the EuroFlow™ Immunology Panels in 2019.
The EuroFlow™ approach for the study of PIDs is aimed at the standardization of the flow cytometry procedures and strategies for reliable and reproducible diagnosis and classification of PIDs of the lymphoid system. At the same time, the aim of the EuroFlow™ Consortium is that the solution they are proposing can be implemented in a cost-effective and easy manner which is applicable in multicenter settings worldwide.
This is one of the main drawbacks of previous proposals and guidelines for screening for PIDs, which are well defined and published since years ago, but have been only partially successful due to the lack of standardization in laboratory procedures (in the same manner that occurred with the study of hematological malignancies).
The EuroFlow™ PID algorithm for study of Primary Immunodeficiencies of the Lymphoid System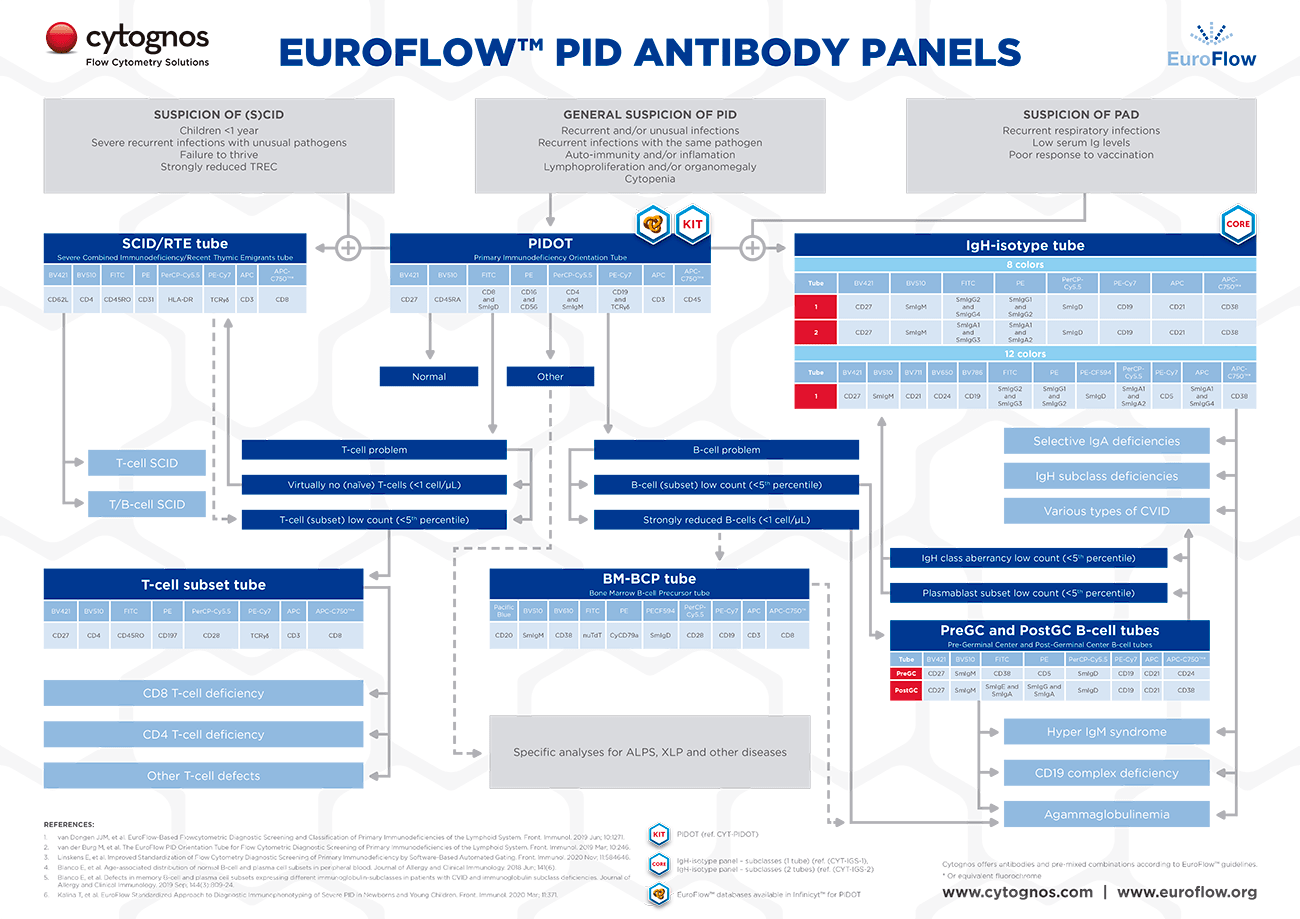 The 2019-published EuroFlow™ Panels comprise one orientation tube and seven classification tubes. The use of the orientation tube (Primary Immunodeficiency Orientation Tube or PIDOT) aims at the identification and enumeration of the main lymphocyte and leukocyte subsets for initial guidance of the analysis and for prioritizing further diagnostic modalities, including the seven classification tubes.
The seven additional tubes would be used according to the EuroFlow™ PID algorithm, either in parallel or subsequently to the PIDOT, and would allow detailed analysis of the B-cell and T-cell subsets to classify each PID of the lymphoid system.
Pre-Germinal Center tube
Post-Germinal Center tube
Immunoglobulin heavy chain (IgH)-isotype B-cell tube
Severe Combined Immunodeficiency (SCID) tube
T-cell memory/effector subset tube
Want to know more about the EuroFlow™ Databases for Primary Immunodeficiencies?
The validation and testing of these Panels were followed by the creation of the corresponding reference databases and datasets for automated comparison analysis of patient data and objective interpretation of results. These datasets are comprised of more than 300 healthy controls and PID patient samples that allowed to build reliable databases to be included in Infinicyt™ 2.0 and the corresponding reference ranges to assess normality or deviation from it.
The major advantage of the EuroFlow™ approach is that data can be fully exchanged between different laboratories in any country of the world, which is especially of interest for the PID field, with generally low numbers of cases per center.
It must be noted that the design and validation of these panels was performed in a similar manner to that of the Oncohematology Panels, following several cycles of design-testing-evaluation-redesign in a multicenter setting, until reaching the final version of each panel.