Monocyte subsets tube (TiMaScan™)
Pre-mixed combination allows for the accurate detection and enumeration of the main monocyte subsets.
Three different maturation stages of monocytes circulate and can be encountered in peripheral blood samples. They are defined according to their immunophenotype: Classical, Intermediate and Non-classical.
| Pacific Blue™ | OC515™ | PerCP-Cyanine5.5 | PE-Cyanine7 | APC-C750™ |
| --- | --- | --- | --- | --- |
| HLA-DR | CD45 | CD14 | CD300e | CD16 |
Omnicyt™ cytometer's unique and innovative features make it the perfect complement for tissue macrophage scanning:
Standard optical configuration with 3 lasers and 13 parameters allows working with up to 11 fluorescent markers.
Flat-top lasers and acoustic focusing guarantee the most reproducible and accurate fluorescence measurement and, at the same time, reduces the frequency of system calibration.
Non-pressurized volumetric system that allows counting cells for every population.
Electronic system capable to save up to 20 million events including all parameters (important to scan circulating macrophages).
No abort rate: all events are saved including aggregates.
* Only available in selected countries in Europe. Ask here for more details.
Analysis:
Easy processing of big data files of 10 million events.
The Automatic Population Separator (APS) highlights the markers that are most significant to identify all populations.
Analysis strategies can be stored in the profile.
Reference Images for comparison between samples from the same patient or between patients, identification of maturation patterns, etc.
Report:
Relevant comments and conclusions can be stored as keywords and included in the TiMaScan™ report.
Export results in formats compatible with Laboratory Information Systems (LIS).
Well-prepared technical support team with scientific-based knowledge and practical experience to help you implement Next Generation Flow™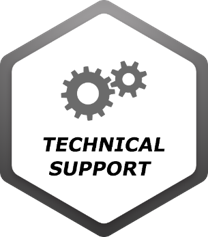 Cytognos Technical Support team has the required experience, know-how and training resources to achieve successful implementation of the NGF methodology independently of the site (public and private hospitals, research facilities or other). The following points are addressed during technical support:
SOPs for cytometer set-up: Instrument standardization introduced in all labs.
SOPs and stable lyophilized kits for sample processing: Inter and intra laboratory reproducibility.
Data analysis: Exclusive tools for multiparametric data analysis and reporting.
Technical support is available through email, webinars or onsite visits. Cytognos provides a variety of solutions and products specifically aimed at the implementation of Next Generation Flow™ in your laboratory. Feel free to contact us and learn more about  our technical support.
van den Bossche WBL, et al. Monocytes carrying GFAP detect glioma, brain metastasis and ischaemic stroke, and predict glioblastoma survival. Brain Communications 2020;3(1):fcaa215. Go to publication.
van den Bossche WBL, et al. Flow cytometric assessment of leukocyte kinetics for the monitoring of tissue damage. Clinical Immunology. 2018 Dec; 197:224-30. Go to publication.
Damasceno D, et al. Distribution of subsets of blood monocytic cells throughout life. 2019 Jul; 144(1):320-3.e6. Go to publication.
Kapellos TS, et al. Human Monocyte Subsets and Phenotypes in Major Chronic Inflammatory Diseases. Frontiers in Immunology. 2019 Aug. 10:2035. Go to publication
Talati, T, et all. Monocyte subset analysis accurately distinguishes CMML from MDS and is associated with a favorable MDS prognosis. Blood. 2017 Mar. 129(13): 1881-3. Go to publication
Sampath P, et al. Monocyte Subsets: Phenotypes and Function in Tuberculosis Infection. Frontiers in Immunology. 2018 Jul. 9:1726. Go to publication