Next Generation Flow™ solution
for Acute Leukemia
Acute Leukemia Orientation Tube (ALOT)
Evaluation of samples with suspicion of acute leukemia. An initial screening step based on a limited number of antibodies orientates efficiently towards the most appropriate characterization panel (BCP-ALL, T-ALL & AML/SMD).
The ALOT tube includes all the necessary markers to identify the different blast lines as well as MPAL (mixed phenotype acute leukemia): CD3, cyCD3, CD19, cyCD79a, cyMPO and CD7 which is positive in virtually all cases of T-ALL.
Suitable for evaluation of bone marrow and peripheral blood samples.
EuroFlow™ Databases for Automated Gating and Identification and Compass Classification tools included in Infinicyt™ for analysis automation and expert-guided interpretation.
| Pacific Blue™ | OC515™ | FITC | PE | PerCP-Cyanine5.5 | PE-Cyanine7 | APC | APC-C750 |
| --- | --- | --- | --- | --- | --- | --- | --- |
| CyCD3 | CD45 | CyMPO | CyCD79a | CD34 | CD19 | CD7 | SmCD3 |
Classification for Acute Leukemia
Characterization panels comprise the use of core markers to consistently identify the population of study in all tubes and other markers for characterization and classification of the cells in a specific isease entity.
The use of premixed combinations reduces operational mistakes, pipetting time and inventory management requirements. Just add the required single antibodies to complete the panel.
Core combination for BCP-ALL panel
This lyophilized combination of core markers is suitable to identify the population of study in all tubes of the BCP-ALL panel.
| OC515™ | PerCP-Cyanine5.5 | PE-Cyanine7 |
| --- | --- | --- |
| CD45 | CD34 | CD19 |
B-Cell Precursor Acute Lymphoblastic Leukemia MRD kit (BCP-ALL MRD)
Follow-up and sensitive quantification of MRD in BCP-ALL patients. MRD evaluation is one of the most significant prognostic factors in ALL for predicting disease recurrence.
Consistent panel of antibodies and fluorochromes:

Backbone markers for the evaluation of the B-cell maturation pathway. Evaluate the potential of the flow assay to detect normal BM cells that are regenerating after chemotherapy to reduce likelihood that those cells are misinterpreted as abnormal cells.
CD66c, CD123, CD73 and CD304 markers to define frequent abnormalities in BCP-ALL.

Suitable for evaluation of bone marrow, which is the most appropriate sample for BCP-ALL-MRD evaluation.
Pre-determined MRD thresholds for accurate reporting based on LOD and LLOQ and number of acquired events. Lower Limit of Detection and Limit of Quantitation should be reported after analysis in order to provide an objective result following current reporting guidelines.
High sensitivity close to 10-5.
Applicable in virtually all BCP-ALL samples since no specific primers or probes are required.
Evaluate efficacy of treatment and individualized therapy monitoring by evaluation of the tumor load.
| BCP-ALL MRD | Pacific Blue™ | OC515™ | FITC | PE | PerCP-Cyanine5.5 | PE-Cyanine7 | APC | APC-C750 |
| --- | --- | --- | --- | --- | --- | --- | --- | --- |
| Tube 1 | CD20 | CD45 | CD81 | CD66c+CD123 | CD34 | CD19 | CD10 | CD38 |
| Tube 2 | CD20 | CD45 | CD81 | CD73+CD304 | CD34 | CD19 | CD10 | CD38 |
Infinicyt™ is the most advanced software in flow cytometry data analysis containing innovative tools for multivariate analysis, integration and interpretation of multiparametric data. Infinicyt™ includes tools to access the EuroFlow™ Databases containing both normal and abnormal samples processed following the EuroFlow™ SOPs and stained with the ALOT antibody combination.
Compass tool:
Comparison with a database of more than 650 cases (145 T-ALL, 377 BCP-ALL, 134 AML).
The database-guided analysis allows accurate selection of the most appropriate classification panel.
Obtain the percentage of single lineage (B, T, myeloid), mixed phenotype acute leukemia, transitional, undifferentiated and immature cells.
A strong technical support team with the scientific-based knowledge and practical experience to implement Next Generation Flow™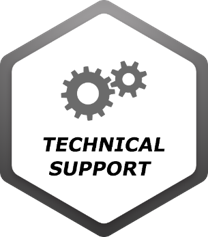 Cytognos Technical Support team have the required experience, know-how and training resources to achieve successful implementation of the NGF methodology independently of the site (public and private hospitals, research facilities or other). The following points are addressed during technical support:
SOPs for cytometer set-up: Instrument standardization introduced in all labs.
SOPs and stable lyophilized kits for sample processing: Inter and intra laboratory reproducibility.
Data analysis: Reference databases with standardized reports bring a common language to the different sites.
Technical support is available through email, webinars or onsite visits. Cytognos provides a variety of solutions and products specifically aimed at the establishment of Next Generation Flow™ in your lab. Feel free to contact us to know more about them.