Acute Leukemia
Description
Last update: October 1st, 2019
Acute leukemia comprise a heterogeneous group of malignant diseases characterized by clonal expansion of immature hematopoietic precursor cells.  Cancer cells multiply rapidly and displace normal cells in the bone marrow, blood, and/or lymph tissues. They may also invade other organs, such as the testicles or the central nervous system.
Current international classifications that are used for therapeutic stratification categorize acute leukemia mainly on the basis of the lineage of the blast cells and the type of additional cytogenetic/molecular lesions and detailed immunophenotype.  According to the WHO acute leukemias are classified in two main groups: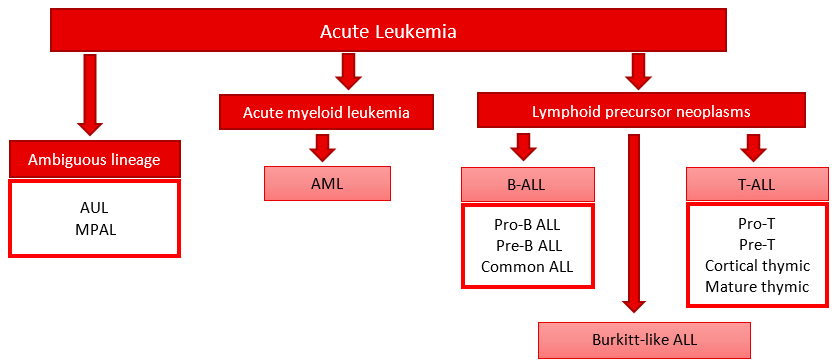 Lymphoid precursor neoplasms
B cell precursor acute lymphoblastic leukemia/lymphoma (B-ALL): several subtypes identifiable by immunophenotype:
Early precursor B (also called pro-B ALL)
Common ALL
Pre-B ALL
Mature B cell ALL: also called Burkitt-like ALL-
T cell precursor ALL (T-ALL): several subtypes identifiable by immunophenotype:
Pro-T
Pre-T
Cortical thymic
Mature thymic.
Acute myeloid leukemia (AML) and related precursor neoplasms.
Some cases, however, either show no clear evidence of differentiation along a single lineage or express differentiation antigens highly specific of more than one lineage. These cases are categorized separately as acute leukemia of ambiguous lineage, including both acute undifferentiated leukemia (AUL) and mixed phenotype acute leukemia (MPAL).
Determination of the subtype and the stage of the disease is very important, as they are factors that affect prognosis (chance of recovery) and treatment options.