Next Generation Flow™ solution
for Chronic Lymphoproliferative Disorders
Suitable for the evaluation of different type of samples (bone marrow, peripheral blood, lymph nodes, etc) with suspicion of mature lymphoid infiltration.
An initial screening step based on a limited number of antibodies orientates efficiently towards the most appropriate EuroFlow™ characterization panel (B-CLPD, T-CLPD & NK-CLPD).
Inclusion of two markers in the same fluorochrome allows the analysis of a larger number of antibodies in an 8-color combination.
Good clinical sensitivity: optimized antibody combination for the dissection of lymphoid cells into their major subsets with a set of reagents that can simultaneously define aberrant and clonal phenotypes.
High specificity: Inclusion of markers that improve the characterization of the lymphoid cell populations (CD38 for discriminating B-cell precursors or plasma cells and anti-TCRγδ for discriminating TCRγδ+ from other CD8-/+low T-cells), and provide a more sensitive and robust orientation on subsequent analyses (CD5 and/or CD38 for the detection of aberrant or clonal phenotypes).
| Pacific Blue™ | OC515™ | FITC | PE | PerCP-Cyanine5.5 | PE-Cyanine7 | APC | APC-C750 |
| --- | --- | --- | --- | --- | --- | --- | --- |
| CD20+CD4 | CD45 | CD8+SmIgLambda | CD56+SmIgKappa | CD5 | CD19+TCRgd | SmCD3 | CD38 |
Powerful diagnostic tool for the evaluation of samples with suspicion of primary lymphoma.
Inclusion of two markers in the same fluorochrome allows the analysis of a larger number of antibodies in an 8-color combination.
Good clinical sensitivity: Optimized combination for the detection of the most relevant leukocyte populations in low cellularity samples; CD45, CD19, CD20 (positive identification of mature B-cells), anti-SmIgKappa, anti-SmIgLambda (B-cell SmIg light chain subsets) and SmCD3, CD4, CD8, CD56 (identification of both T-cells and NK cells).
High specificity: Additional markers like CD14 (monocytes) and CD38 (plasma cells) are selected for an optimal detection and identification of all possible cell types in a more complete way.
| Pacific Blue™ | OC515™ | FITC | PE | PerCP-Cyanine5.5 | PE-Cyanine7 | APC | APC-C750 |
| --- | --- | --- | --- | --- | --- | --- | --- |
| CD20 | CD45 | CD8+SmIgLambda | CD56+SmIgKappa | CD4 | CD19 | SmCD3+CD14 | CD38 |
Characterization panels comprise the use of core markers to consistently identify the population of study in all tubes and other markers for characterization and classification of the cells in a specific disease entity.
The use of premixed combinations reduces operational mistakes, pipetting time and inventory management requirements. Just add the required single antibodies to complete the panel.
The design and development of the standardized 8-color antibody panels to classify each B-CLPD, T-CLPD and NK-CLPD entity, comprised the selection of both core markers and tube-specific characterization markers for the identification and characterization of all B-, T-, and NK-cell population(s) of interest (for more information check out our complete antibody catalog).
Core combination for B-CLPD panel
This lyophilized combination of core markers is suitable to identify the population of study in all tubes of the B-CLPD panel.
| Pacific Blue™ | OC515™ | PE-Cyanine7 |
| --- | --- | --- |
| CD20 | CD45 | CD19 |
Omnicyt™ cytometer's unique and innovative features make it the perfect complement to work with these panels and the complete solution for chronic lymphoproliferative disorders analysis proposed by EuroFlow™ and Cytognos:
Standard optical configuration with 3 lasers and 13 parameters allows to work with up to 11 fluorescences.
Flat top lasers guarantee the most reproducible and accurate fluorescence measurement possible and, at the same time, reduces the frequency of system calibration.
The non-pressurized volumetric system allows to count cells for every population in a single platform and without additional products required, as beads or cell counter.
Files fully compatible with EuroFlow™ Databases for LST. Electronic system capable to save up to 20 million events including all parameters (important for MRD cases).
No abort rate: all events are saved including aggregates which could contain pathological cells (important to follow up MRD cases).
* Only available in selected countries in Europe. Ask here for more details.
Infinicyt™ is the most advanced software in flow cytometry data analysis containing innovative tools for multivariate analysis, integration and interpretation of multiparametric data. Infinicyt™ includes tools to access the EuroFlow™ Databases containing normal samples processed following the EuroFlow™ SOPs and stained with the LST antibody combination.
Automated Analysis:
The automated identification of all normal counterparts and detection of abnormal cells orientates efficiently towards the most appropriate characterization panel, reducing time and making the process user-independent.
EuroFlow™ Database includes peripheral blood samples from different centers reflecting biological and technical variability.
Automatic Report:
Automatic comparison of the frequency of each population with reference ranges from the EuroFlow™ Database.
Clinically relevant comments and conclusions based on reference values and patient specific-results.
Improves communication between clinicians and flow cytometry laboratories.
Available in different languages.
Results can be linked to your Laboratory Information System (LIS).
A strong technical support team with the scientific-based knowledge and practical experience to implement Next Generation Flow™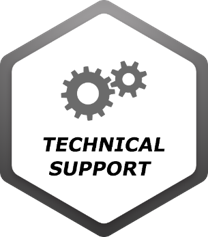 Cytognos Technical Support team have the required experience, know-how and training resources to achieve successful implementation of the NGF methodology independently of the site (public and private hospitals, research facilities or other). The following points are addressed during technical support:
SOPs for cytometer set-up: Instrument standardization introduced in all labs.
SOPs and stable lyophilized kits for sample processing: Inter and intra laboratory reproducibility.
Data analysis: Reference databases with standardized reports bring a common language to the different sites.
Technical support is available through email, webinars or onsite visits. Cytognos provides a variety of solutions and products specifically aimed at the establishment of Next Generation Flow™ in your lab. Feel free to contact us to know more about them.
Costa ES, et al. A new automated flow cytometry data analysis approach for the diagnostic screening of neoplastic B cell disorders in peripheral blood samples with absolute lymphocytosis. Leukemia. 2006 May; 20:1221-1230. Go to publication.
van Dongen JJ, et al. EuroFlow antibody panels for standardized n-dimensional flow cytometric immunophenotyping of normal, reactive and malignant leukocytes. Leukemia. 2012 Sep; 26(9):1908-75. Go to publication.
Costa ES, et al. Automated pattern-guided principal component analysis of B-cell chronic lymphoproliferative disorders. 2010 Nov. Leukemia; 24(11): 1927-33. Go to publication.