Webinar – Why changing from manual to automated analysis of the LST tube? (2020/11/26) – 11:00 AM CET
November 26 @ 11:00

-

12:00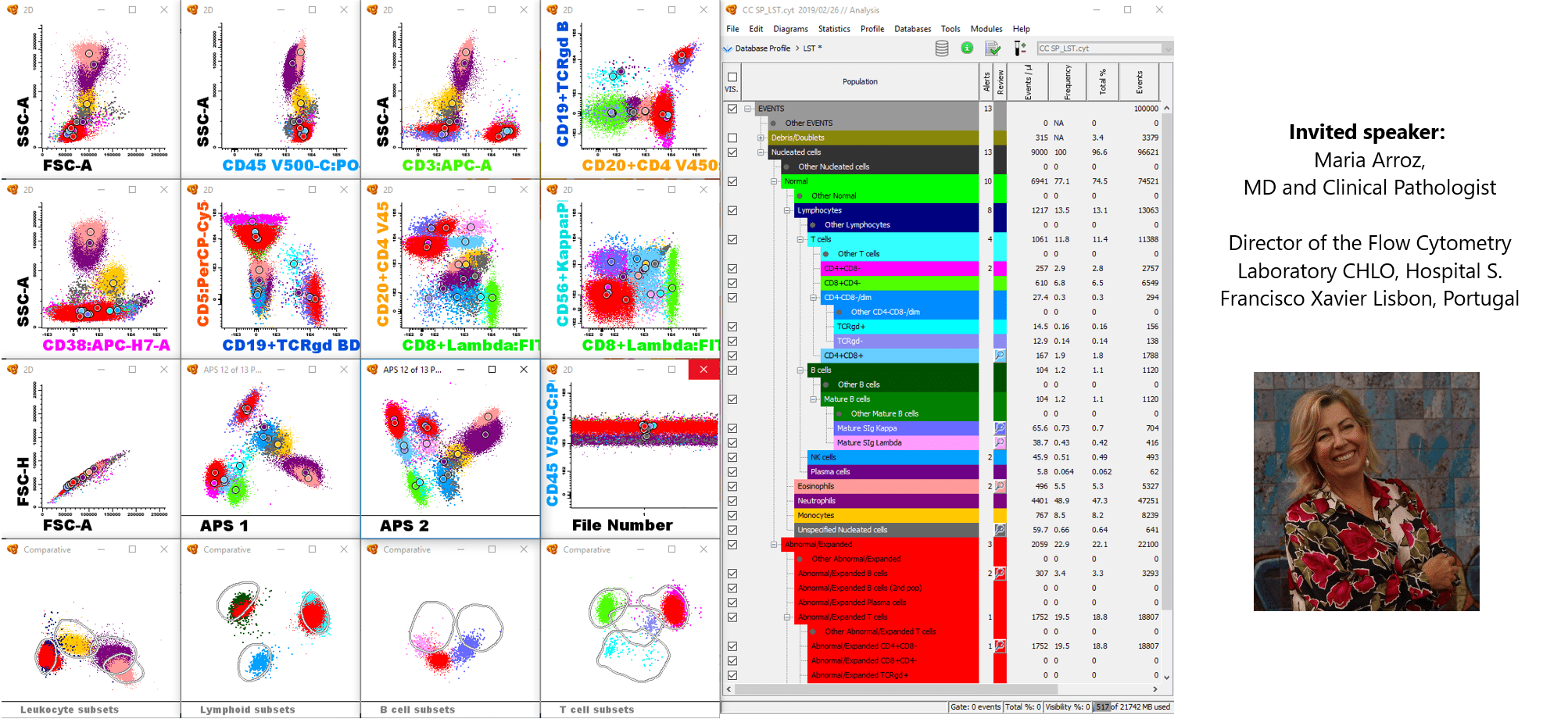 Join this webinar with our invited speaker Maria Arroz, MD and Clinical Pathologist 
What do you know about the EuroFlow™ databases? Would you like to learn how Automated Analysis works for a lymphoid screening analysis?
The EuroFlow™ Lymphoid Screening tube (LST) was designed to identify the major T and B-cell subsets, in addition to NK-cells, monocytes, neutrophils and eosinophils. In the context of hemato-oncology and multiparametric flow cytometry, the classical expert-guided manual gating strategies based on bi-variate dot plots to identify aberrant and residual normal cell populations has become suboptimal in routine diagnosis.
In this webinar Maria Arroz will address an alternative approach based on automated gating and classification algorithms. She will start by describing the construction of the LST reference database for automated identification of peripheral blood lymphocyte subsets and its validation against a large set of normal and chronic lymphoproliferative disorders (CLPD) datafiles, based on the combined use of clustering techniques and a database comparison step. She will then present 4 examples of T and B-cell CLPD cases, followed by a live analysis of a Hairy Cell Leukemia case with Infinicyt™ 2.0 software. 
Maria Arroz, MD and Clinical Pathologist
Director of the Flow Cytometry Laboratory
CHLO, Hospital S. Francisco Xavier
Lisbon, Portugal
Maria Arroz, MD and Clinical Pathologist, is the Director of the Flow Cytometry Laboratory at CHLO Hospital S. Francisco Xavier in Lisbon. This hospital is a reference center for clinical applications of flow cytometry and its facilities are used to teach new users of this field in Portugal. The research is mainly focused on the immunology of HIV infection, leukemia/lymphoma diagnosis and minimal residual disease in multiple myeloma.
During the last decades, Maria has been director of the Flow Cytometry Laboratory at Hospital Egas Moniz (1993-2008), of the Clinical and Reference Laboratory Units in the National Institute of Health (2008-2009) and of the Flow Cytometry Laboratory at CHLO, Hospital S. Francisco Xavier (2009 to present).
During her career, she has been a remarkable member of several flow cytometry societies and committees, such as the ICCS Quality & Standards Committee, CCEN Course Committee, Clinical Cytometry Society Council etc. She has also been Vice-president of the Iberian Cytometry Society, Board member of the European Society for Clinical Cell Analysis (ESCCA), Director of the ESCCA Clinical Cytometry courses, President of the 14th ESCCA conference, Board member and Associate Editor of Cytometry "Clinical Cytometry".
Maria has delivered over 70 invited lectures, at courses and conferences in 18 different countries around the world, and has authored or co-authored numerous research contributions.