The Omnicyt™ CE-IVD flow cytometer provides a combination of precision, performance and reproducibility for your clinical cell analysis. In a field steadily evolving through standardization, Cytognos provides an important tool for the implementation of an efficient and reliable workflow, complementing the value of the Infinicyt™ software and the multiple reagent solutions which are based on the scientific excellence of EuroFlow™.
Features and specifications
3 lasers

Blue laser: 488 nm, 50 mW
Violet laser: 405 nm, 50 mW
Red laser: 637 nm, 100 mW

13 individual detectors:

11 fluorescent detectors
2 of light dispersion (FSC + SSC)

Fluorescence sensitivity:

<80 MESF for FITC
<30 MESF for PE
<70 MESF for APC

Set of optimized filters for clinical cytometry most used fluorochromes:

VL-1: 440/50 (PacB; BV421; SB436; PR436)
VL-2: 512/25 (OC515; PacO*; AmCyan; BV510)
VL-3: 603/48 (BV605; PacO*; SB600; PR600)
VL-4: 710/50 (BV711; SB702)
BL-1: 530/30 (FITC)
BL-2: 574/26 (PE)
BL-3: 695/40 (PerCP-Cy5.5)
BL-4: 780/60 (PE-Cy7)
RL-1: 670/14 (APC)
RL-2: 720/30 (Alexa700; APC-A700)
RL-3: 780/60 (APC-C750; APC-H7; APC-Cy7)
*This fluorochrome can be detected by several filters.
Flat-top parallel lasers with fixed alignment:

High stability and sensitivity
Lower calibration frequency
Volumetric system:

Allows absolute cell counts (cells/µL)
Low fluid consumption: no fluidics cart is required
Allows different types of tubes (Ø 17×100 mm and 8.5×45 mm)
Recovery of unacquired volumes in loaded samples

Acoustic assisted hydrodynamic focusing:

Higher reproducibility and accuracy even at high rates
Flow rate between 12.5 and 1,000 µL/min: 12.5, 25, 100, 200, 500 and 1.000

µ

L/min
Higher acquisition rate of diluted samples
The acoustic focusing system works only from the flow rate: 100

µ

L/min. At 12.5 and 25

µ

L/min, the fluidic system works as a standard hydrodinamic system

Anti-clogging technology:

Reduced risk of clogging even with high concentration samples
Digital system with 20 bits and 1,048,576 channels.
Electronic pulse: area, height and width for all detectors.
Acquisition rate: up to 35,000 events/sec*.
*This is the electronic resolution at optimal conditions; diagnostic samples are not intended to be acquired at this rate.
Full matrix compensation, in manual or automatic modes.
Up to ~20 million events can be recorded in a single file.
Prevents data loss since aborted events, including aggregates, are recorded. Notice that aggregates may contain cells of interest such as plasma cells*.
* Files may present higher percentage of doublets than expected.
Running stops when acquisition problems, such as bubbles, are detected.
Manufacturing standards comply with ISO 13485:2016
CE-IVD
Benchtop cytometer with fluid bottles stored within:
40 x 58 x 43 cm (H x W x D)
Weight: 29 Kg
No fluidics cart is required.
Performance Tracking Beads (3mL) (CYT-OMNI-PTB). Download PTB Lot Installers.
Focusing Fluid (10L) (CYT-OMNI-FF).
Debbuble Solution (50mL) (CYT-OMNI-DBS).
Shutdown Solution (250mL) (CYT-OMNI-SD).
Washing Solution (250mL) (CYT-OMNI-WS).
The Omnicyt software enables powerful user-defined experimental analysis via an intuitive, easy-to-use interface. Advanced tools provide simple acquisition and analysis for users at all experience levels.
Ease of use
Intuitive functionality-adjust flow rates, compensation and voltages through intuitive user interface
Less learning time-simple user interface with guided workflows
Easy instrument operation-automated maintenance and instrument performance monitoring
Speed
Quickly run flow cytometry experiments; less scrolling and clicking
Increase productivity; live-streaming update of statistics during acquisition of events
Fast refresh rates for large data sets of up to 20,000,000 events per sample and indeed, it's posible to add more events with Append option
Guided functionality
Guided functions for automated or easy user-defined compensation
Automated maintenance: Start Up, Shutdown, Rinse, Santize Omnicyt™ SIP, Deep Clean, Sanitize, System Decontamination, Autosampler Calibration
Automated Data and Database backup to ensure data redundancy
© 2019 Thermo Fisher Scientific Inc. Used under permission. Life Technologies Corporation, a part of Thermo Fisher Scientific Inc. – www.thermofisher.com
Visual management buttons and icons help navigate workflows and running experiments. The software allows for:
Customizable experimental workflows–pre-define settings for plots, gates, experiments, reports, and overlays
Preview screens–easy set-up by showing all plot combinations instantaneously for easy experimental set-up
Guided functions–for automated or easy user-defined compensation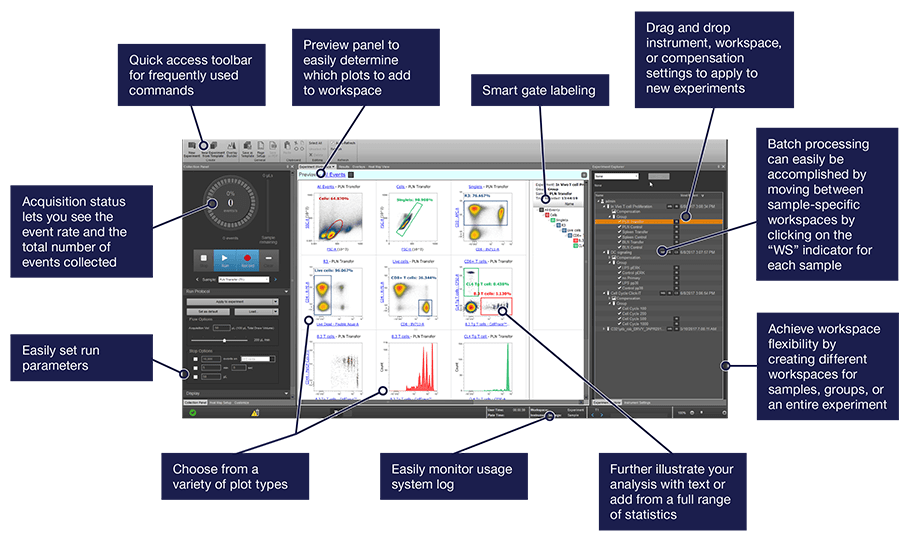 Versatile
Heat map for easy setup of plate based assays
Sample Recovery to return unused sample to save precious samples
Hierarchy view of plots to instantly view complex gating strategies
Customizable
User customizable Wait-to-Record function
Ability to set user options for default settings for gates, plots, fonts, colors, and group/sample names
Visual appearance of the plots is completely customizable; fonts, colors, titles legends and much more can appear exactly the way you want
Publication quality data
Smartgate labeling to customize quad gate names and target names
Add text, statistics and even images to immediately present data
One-click saving of high resolution plots in a variety of file formats including XML, FCS, and even ZIP, for multiple files concurrently
Overlay module to perform comparative analysis of single and dual parameter data
Preview plots to instantly view all combinations of parameters in a file
User management
Levey-Jennings and Performance History reports of baseline and performance tests to monitor trends
Ability to create and manage multiple user accounts
System access based on user account privileges
System logs amount of time between user logon / logoff and number of tubes run per account per period of time
Note: The Omnicyt Flow Cytometer includes a dongle and 1 license for the Omnicyt Software plus a dongle and 1 license for the Infinicyt Software The Omnicyt software may be downloaded onto more than one computer, however the software will only run on computers that also have a dongle inserted. Users then can export FCS files in 3.0 and 3.1 format for use in other analysis programs such as Infinicyt Software.
© 2019 Thermo Fisher Scientific Inc. Used under permission. Life Technologies Corporation, a part of Thermo Fisher Scientific Inc. – www.thermofisher.com
Software simplifies data acquisition with a dashboard that provides the tools for immediately viewing acquisition status and for setting acquisition stopping criteria. The application settings feature automatically adjusts voltage settings to daily changes in cytometer performance, so that users can run existing applications more simply and quickly.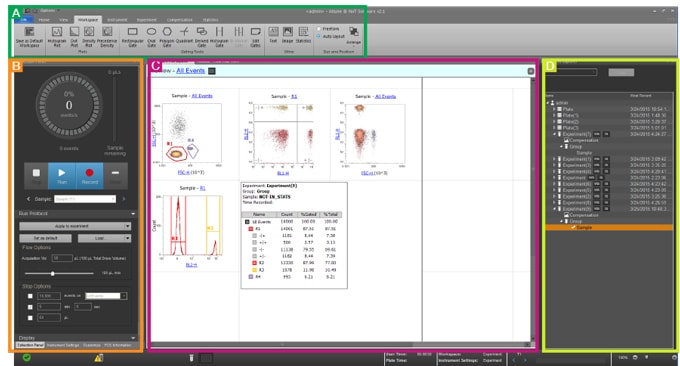 Click on the image for more information
© 2019 Thermo Fisher Scientific Inc. Used under permission. Life Technologies Corporation, a part of Thermo Fisher Scientific Inc. – www.thermofisher.com
Compensation is both rapid and accurate using a guided software system. Users are only required to prepare the proper controls and adjust the voltage gates. The system adjusts the compensation and applies it to the samples.
Compensation tools
Automated compensation setup allows rapid and accurate compensation and helps to eliminate tedious trial and error adjustments
Both negative and unstained gating parameters are available
On-plot compensation for fine-tune adjustment
Modification of compensation to add or remove parameters as needed after compensation is set up
Setup and collect compensation controls directly from a plate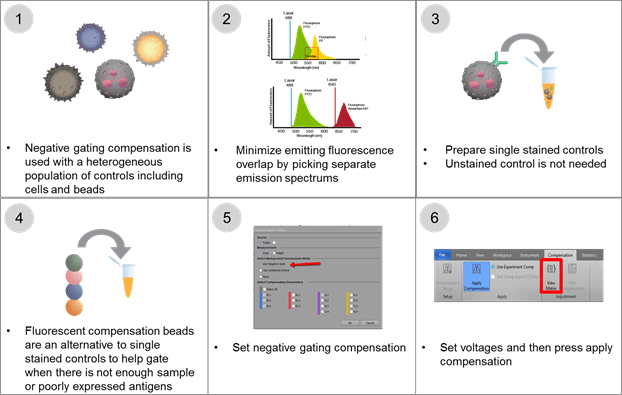 Click on the image for more information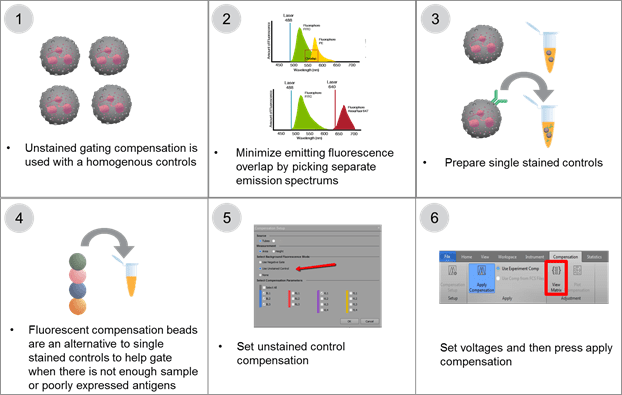 Click on the image for more information
© 2019 Thermo Fisher Scientific Inc. Used under permission. Life Technologies Corporation, a part of Thermo Fisher Scientific Inc. – www.thermofisher.com

Omnicyt

™

 No-Wash No-Lyse Filter Kit
The Omnicyt™ No-Wash No-Lyse Filter Kit enables configuration of the Omnicyt™ with an additional side scatter channel off of the violet laser, allowing no-lyse no-wash immunophenotyping of whole blood. The Omnicyt™ cytometer is quickly and easily configured to collect violet side scatter by changing dichroic and emission filters.
Request additional information or arrange a meeting with our technical team